Menorca Home Services
Property | Care | Maintenance
With a professional team that takes care of all the details so you don't have to worry about a thing. We have been offering our services to owners in Menorca for over 25 years.
For the last 5 years we have concentrated on strengthening our position in Son Bou and we are now ready to take one more step towards a sustainable architecture market thanks to our co-operation with CIDARK Pre-engineered Buildings, who offer an innovative construction system that delivers quality and technology, with results that are environmentally respectful, offering an alternative that meets Menorcas standards as a Biosphere Reserve.

Our daily goal and motivation is based on the following standards:
We have the best human team at your service.
We practice a close and personal treatment.
We offer a global pack of services.
We adapt to your needs.
We give you honest pricing.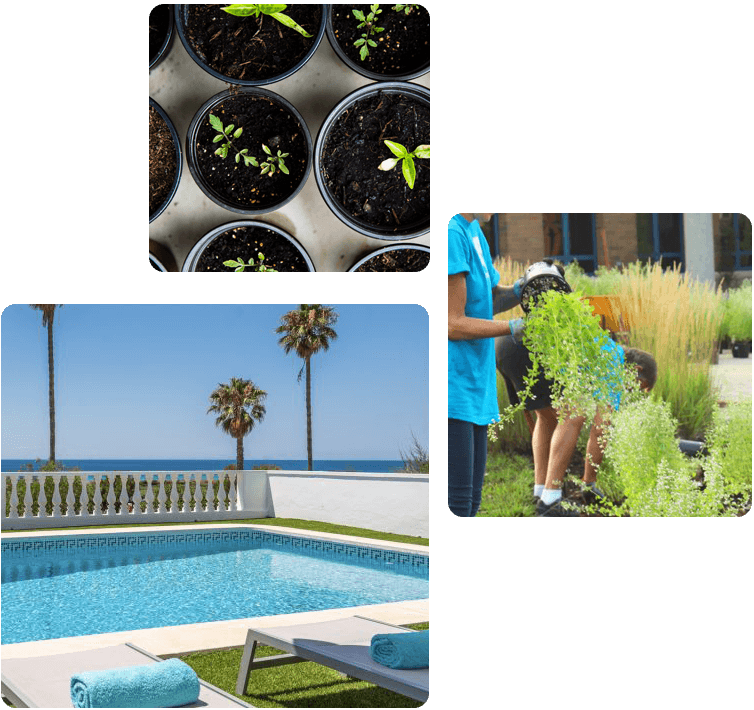 Services
Garden maintenance
---
We offer the full range of services in order to keep your garden in good condition and fully running: irrigation systems, weed treatments, plague control, phytosanitary treatments, fertilizing, trimming and more.
Pool maintenance
---
We take care and maintain your pool with frequent testing of PH and chlorine levels, analyzing the water quality, cleaning the water surface and filters, all in order to enjoy the best refreshing moments.
Cleaning and Laundry services
---
Thanks to our partner Menorca Vacations, we are able to offer a complete and tailor made cleaning and laundry service, with high hygienic standards and based on environmentally friendly products that enhance conservation.
Reception services
---
Our partnership with Menorca Vacations gives us the chance to offer a full range of property services: key holding, direct and personal assistance to guests, contacts with suppliers and other professionals of different areas and many other administration services.
Professional assistance
---
Our team is in a constant learning process in order to offer you the latest and best solution to your case and needs. We also work with first class partners that complement our services and help us grow.
Property rental management
---
Menorca Vacations is the leading rental company in Menorca, and as our partners, they will offer you the best rental management agreement in order to obtain the maximum profit of your investment.